Briefly in English:
Bibliography of Finnish Sports Journalism
The Finnnish men's national football team's press conference in Chișinău, Moldova, September 2, 2010. From left Sami Hyypiä, Jari Litmanen, head coach Stuart Baxter and Petri Pasanen. Pasanen is nowadays hosting TV channel C More's UEFA Champions League broadcasts in Finland and have both Hyypiä and Litmanen regularly along working as commentators. © Jussi Eskola
These websites feature a bibliography of Finnish sports journalism. The sites also present the key concepts and characteristics of sports journalism and sports media, as well as the history of Finnish sports journalism and its research. The aim of the sites is to provide easily accessible research information to a wide range of users.
The main themes are: 1) Heroes and villains in sports journalism, 2) Sports journalism as a creator of images, 3) The history of sports journalism and book reviews, 4) On the playing field of sports journalism, 5) Sports language and commentaries, 6) Sports broadcasts and its consumers, 7) Sports press and 8) Sports journalists and their work. The sites include articles about each main theme presenting their key features from research findings to everyday observations.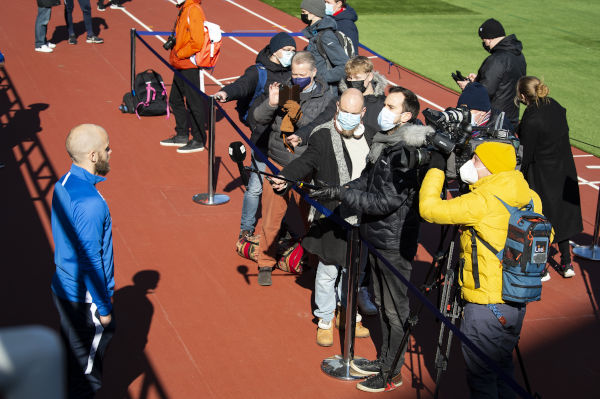 Football player Teemu Pukki interviewed during the era of COVID-19 restrictions in Helsinki, March 25, 2021. © Jussi Eskola
Publications in the bibliography are also classified according to the publication type classification, as defined by the Finnish Ministry of Education and Culture. There are a total of eight publication types: 1) Peer-reviewed scientific articles, 2) Non peer-reviewed scientific articles, 3) Articles for the professional community, 4) Books and other works for the professional community, 5) Popular articles, 6) Popular books and other works, 7) Master's theses and 8) Dissertations and licentiate theses. In addition to themes and types, users can search for publications by language and link availability. There are over 2,200 publications in the bibliography and they can be found under the title 'Julkaisut'. Around 50 of those are published in English, on which around 20 can be found online.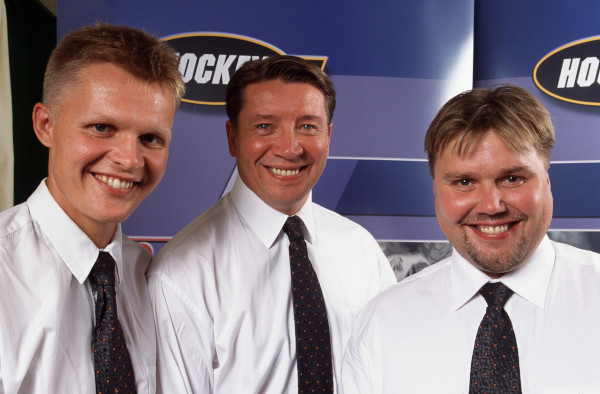 Sports journalist Mika Saukkonen (left) with former ice hockey players Jari Kurri and Timo Jutila broadcasting the Hockey Night. © MTV Oy
Publications have been compiled into the bibliography from several different databases and search engines (e.g., Finna, ARTO, Google, Google Scholar). The keywords used include 'sports journalism', 'sports media', 'sports broadcast', 'sports language', 'sports journalist' and 'sports commentator' with various Finnish case suffixes. The aim has been to build a comprehensive collection of publications related to sports journalism and its various aspects. However, there are some limitations. Radio and television broadcasts, podcasts, online videos and publications on social media platforms are excluded. Articles published in professional journals and magazines are included, but newspaper articles are excluded. The theses in the bibliography have to be published at least at the level of master's studies, and so bachelor's theses, for example, are excluded.
The sites are a result of a project carried out in the Faculty of Sport and Health Sciences at the University of Jyväskylä, Finland. The responsible researcher is Senior Researcher Antti Laine (doctoral degree in Sport Sciences; Associate Professor of Journalism). The sites were originally published in February 2023. The bibliography currently includes works published until the end of 2022. It is updated once a year so that the previous year's publications are added by the end of April.
These websites feature a bibliography of Finnish sports journalism. The sites also present the key concepts and characteristics of sports journalism and sports media, as well as the history of Finnish sports journalism and its research. The aim of the sites is to provide easily accessible research information to a wide range of users. The publications included in the bibliography are separated into eight main themes, which in turn are divided into two, three or four sub-themes. The main themes are heroes and villains in sports journalism; sports journalism as a creator of images; the history of sports journalism and book reviews; on the playing field of sports journalism; sports language and commentary; sports broadcasts and its consumers; sports press; and sports journalists and their work. The sites include articles about each main theme presenting their key features from research findings to everyday observations. Publications in the bibliography are also classified according to the publication type classification, as defined by the Finnish Ministry of Education and Culture. There are a total of eight publication types: peer-reviewed scientific articles; non-peer-reviewed scientific articles; articles for the professional community; books and other works for the professional community; popular articles; popular books and other works; master's theses; and dissertations and licentiate theses. In addition to themes and types, users can search for publications by language and link availability. There are over 2,000 publications in the bibliography and they can be found under the title 'Julkaisut'. Publications have been compiled into the bibliography from several different databases and search engines (e.g., Finna, ARTO, Google, Google Scholar). The keywords used include 'sports journalism', 'sports media', 'sports broadcast', 'sports language', 'sports journalist' and 'sports commentator' with various Finnish case suffixes. The aim has been to build a comprehensive collection of publications related to sports journalism and its various aspects. However, there are some limitations. Radio and television broadcasts, podcasts, online videos and publications on social media platforms are excluded. Articles published in professional journals and magazines are included, but newspaper articles are excluded. The theses in the bibliography have to be published at least at the level of master's studies, and so bachelor's theses, for example, are excluded. The sites are a result of a project carried out in the Faculty of Sport and Health Sciences at the University of Jyväskylä, Finland. The responsible researcher is Senior Researcher Antti Laine (doctoral degree in Sport Sciences; Associate Professor of Journalism). The sites were originally published in August 2022. The bibliography currently includes works published until the end of 2021. It is updated once a year so that the previous year's publications are added by the end of April. Please cite the pages: Laine, A. & Särkivuori, J. 2022. Suomalaisen urheilujournalismin bibliografia [Bibliography of Finnish Sports Journalism]. University of Jyväskylä. Cited [date]: https://urheilujournalismi.jyu.fi/ Finnish sports journalists Inka Helenius and Riku Riihilahti hosting the annual Finnish sports awards ceremony Urheilugaala in Helsinki, 18 January 2018. © Tomi Hänninen Football player Teemu Pukki interviewed during the era of COVID-19 restrictions in Helsinki, 25 March 2021. © Jussi Eskola